(SAT) SPEED AGILITY TRAINER moves your training up to a new engaging dimension by:
A RABBIT to follow
A programmable PACEMAKER
SPEED AGILITY TRAINER is worldwide Patented, US9095762 WO2010122480, and distributed under licence of Indicotech s.r.ls. .
It provides a LED light moving spot, configurable as speed and acceleration.

Of the same Agility Trainer Family:(BTT) Beep Test Trainer
(VTS ONE) Virtual Trainer Swim ONE
(VT MED) Virtual Trainer Medical

Download SAT 3.3 Quick Guide
Why SPEED AGILITY TRAINER ?
Think to run behind a LED light spot that pulls you at desired speed and acceleration. Think to jump from a point to another driven by the LED light spot set at desired distance. Think a reference point which forces you ramdom sudden direction changes. Version Ver. 3.3 allows you to improve your workouts by:
the LED light spot that runs the distance-time choosen by you
the rising speed curve that follows a mathematical model
the LED light spot that runs both as SHUTTLE and as LADDER
performing any number of REPEATS with any REST time between them
The starting sequence that provides the regular "at your marks", "set" and "shot" advices
The LED light spot color changing as a timer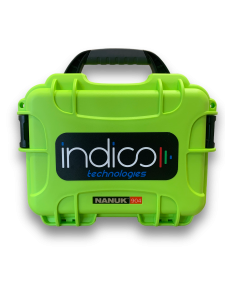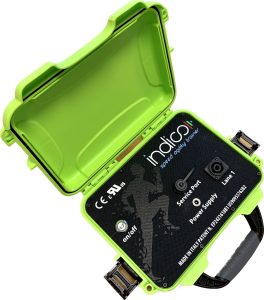 SPEED AGILITY TRAINER Ver.3.3
SAT package comes with the Handbag (dimensions about 300-250-150 mm) and the LED Strip in a Coil (25 -50 meters).
The embedded microcontroller unit that drives the LED strip is fed by 12 V internal battery.
SAT can be operated by your WiFi device, just typing its ip address in the browser.
Handbag Internal Layout:
1 switch ON Pushbutton
2 pause-restart Pusbutton (Optional)
3 charging plug
4 buzzer
5 LED strip plug
Once the 12V internal Li-ion battery is charged by the included Charger you can enjoy SAT, free of any wiring to electric power, all day long. LED Strip is water proof (IP 68). It can be laid on the track (or on any flat surface) either in Permanent or Removabepositioning.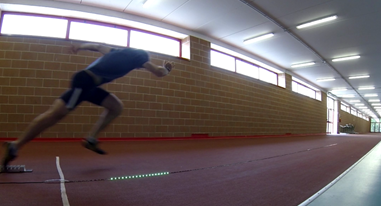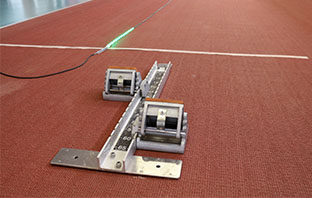 1- Choose COLOR, Buzzer ON-OFF, Advanced setting ON-OFF, Distances in Meters-Yards
2- Select Mode (see below)
3- Click on START button, whatever MODE is selected, the starting sequence (semaphore) is activated:
On your marks – SET – Shot – by LED Light and Buzzer (if selected).
According to the selected MODE the LED light spot will start its sequence.

Download Usain Bolt Speed and Acceleration TREND in Berlin 2009 World Record. This drill can be simulated by SAT.RUN MODE


ELASTIC MODE


MULTIPLE MODE


SHUTTLE/RANDOM MODE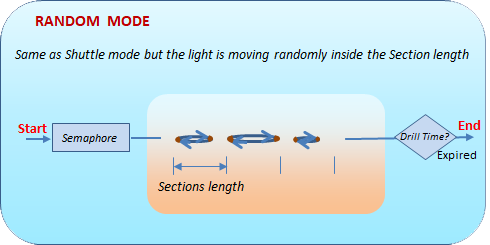 LADDER MODE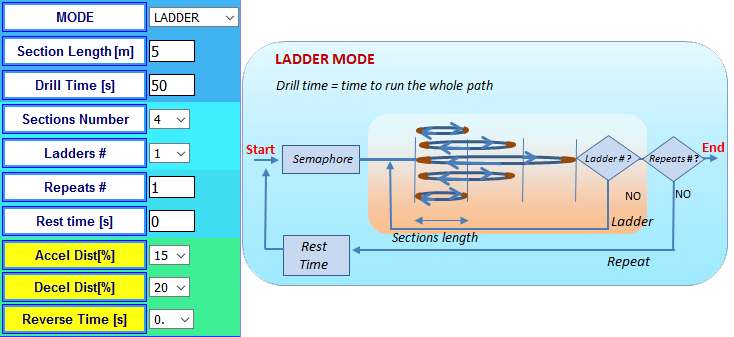 YO-YO MODE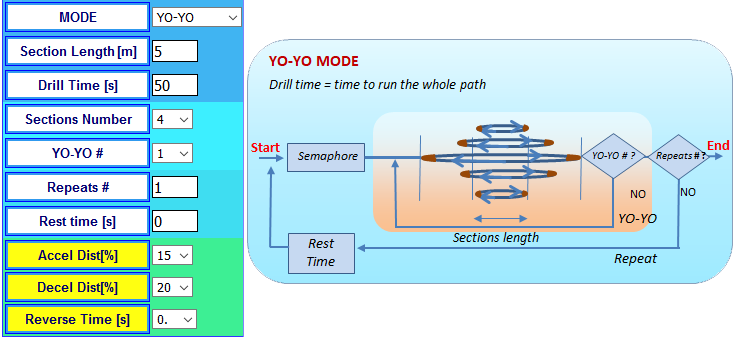 JUMP/TIMER MODE